Large format outdoor screens at Heathrow Terminal 2 designed, built and installed by Ajar Technology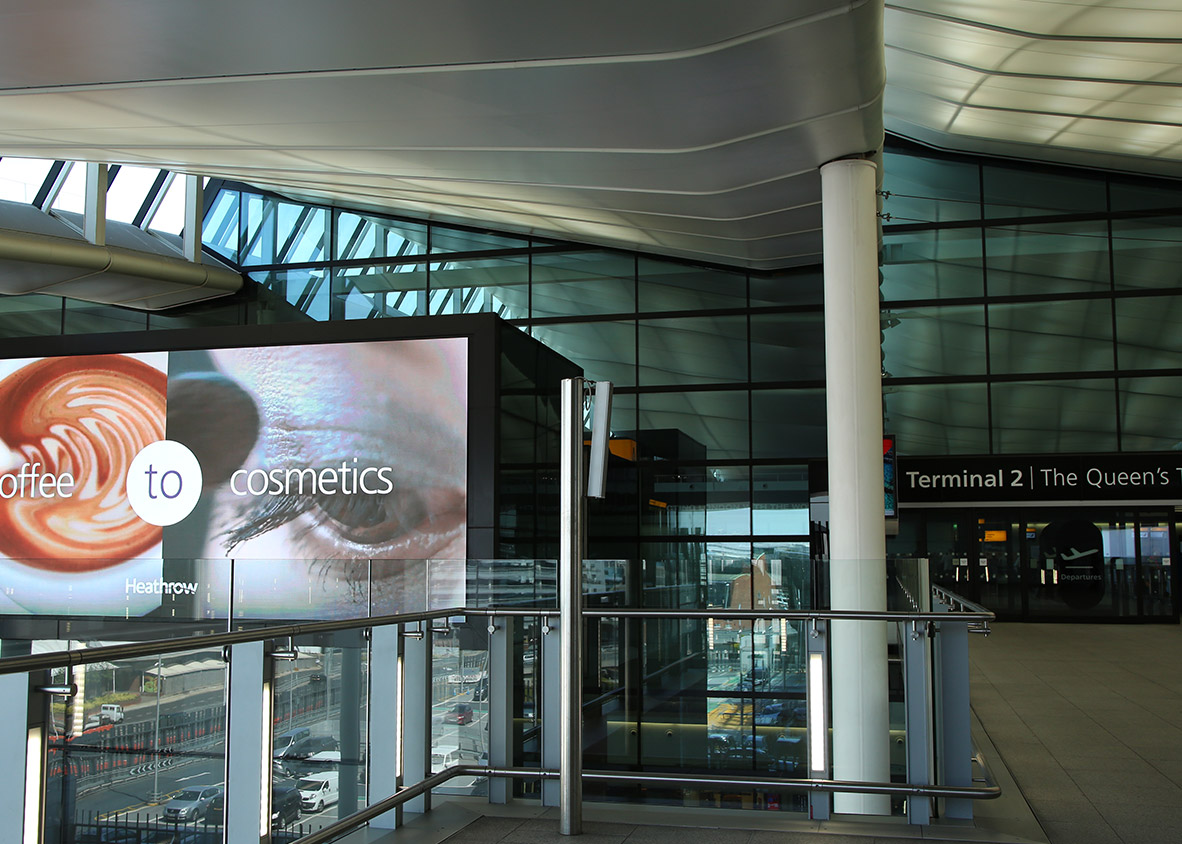 Large format outdoor screens at Heathrow Terminal 2 designed, built and installed by Ajar Technology
Seeing, Connecting, Securing
Ajar Technology interconnects people and their worlds through smart tech.
Our solutions include control room environments, large format digital media display, physical security, cyber security as well as smart building and home automation. Partnering with best-in-class vendors and the end user, our solutions portfolio continues to evolve as clients transform business processes with digital technology.
In the fast moving world of smart tech we believe in offering an end-to-end solution, from innovation and design, all the way to project handover.
What we do
Solutions Design
Installation
Testing
Integration
Programming
Commissioning
Covid 19 Crisis Management
Delivering Client Services and Protecting Our People, The World Health Organisation declared the COVID-19 outbreak a Public Health Emergency of International Concern on 30th January 2020 and a pandemic on the 11th March 2020. The pandemic has affected millions of people and caused unprecedented disruption to businesses world-wide.AJAR Technology continues its commitment to our people, our clients and their customers and has worked hard to maintain services where at all possible whilst ensuring safety and responsibility are at the heart of how we work. We are in regular contact with our clients, making sure we understand their specific challenges and requirements, and ensuring that we do everything we can to prevent the spread of the virus during the delivery of our services.Our Senior Management Team has developed and delivered clear and thorough protocols for all of our people, both office based and with our ICT / Engineering teams to enable and ensure that the necessary technological platforms for new work systems are available where needed.As a supplier of Digital and Physical SMART Buildings Solutions to a number of Central Government Departments, Police and HM Prisons, many of our employees are recognised as Key Workers and it is deemed essential that they continue to perform their duties to support Critical National Infrastructure.
We have agreed protocols in place with a number of our clients to deal with emergency and maintenance regimes considered to be critical.
During this evolving and unprecedented crisis, we have adapted our working practices to ensure the health and safety of all employees, and all we serve.We have arranged for as many of our people as possible to fulfil their roles via home-working and we are in contact with them at the start of every day where any relevant updates are discussed.
Our expertise
Our expertise is reflected by our family of sub-brands.  Protect, Control, Smart, Media, Design and Innovate communicate what we do in the provision of tech solutions: from cyber and physical security to control room environments; from digital transformation to display media; from smart building automation to turnkey consultancy and design.
"The Heathrow Control Centre (APOC) will be transformational for how we work. I'm delighted it is now operational and we are bringing everyone together like this.

JOHN HOLLAND KAYE

CEO London Heathrow Airport
Get in touch to see what we can do for you