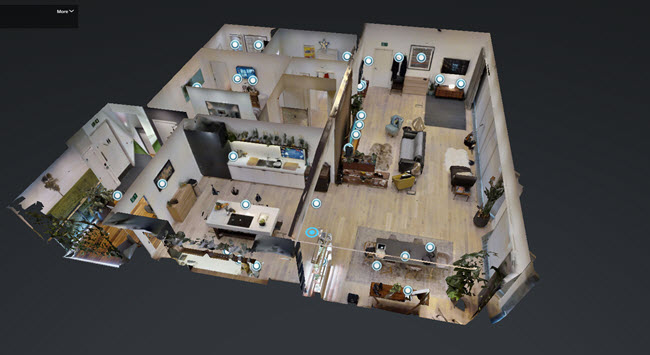 The Home of the Future, built by Unruly with Ajar Technology as tech partner, has now seen 3,000 visitors from 300 brands pass through it. The smart tech showcase developed by Unruly and headed up Futurist, Simon Gosling is a 2,000 square foot space that houses the latest technology in the Unruly London offices. It gives marketers a shot of the future, inspiring them to use a new generation of tech to engage with people in the connected home.
Gosling liaised with interior designers and magazines journalists to understand future trends and used Unruly's home insights survey to provide key data for advertisers. For the highly challenging task of building a fully functioning connected space – within an office – Simon brought in the expertise of smart tech specialist integrator, Ajar Technology.
Within four months, Gosling and team not only designed and built the space but created its story, shot a promo video and created the home tour experience. In addition, Gosling has taken Pop-Up Homes to events including CES in Las Vegas, the Cannes Festival of Creativity and Dmexco in Cologne.
In an interview on hub.tv, Simon comments that the trends changing the conversation between consumers and brands are Artificial Intelligence, Voice, Augmented Reality and Computer Vision.  According to Gosling, data, voice and the IoT, especially, are expected to be the disruptors of business over the next decade. Take the Home 2020 3D Tour here.
Campaign magazine comments that Unruly's Home: "is now one of the agency's biggest client-magnets" proving that connected technology in the home is becoming a key area of focus for brands.
Ajar Technology helped to develop and integrate the disparate connectivity software and equipment that made the Home build possible. Ajar Smart is the division within Ajar Technology that provides tech solutions within the real estate sector; whether comprehensive tech network infrastructure for residential living spaces, hotels, commercial offices or institutions.
Commenting on the partnership with Unruly, Ajar Technology's MD, Andrew Martin, affirms:
"The success of Unruly's Home of the Future validates our belief that smart tech connectivity is becoming a pre-requisite in upscale residential and commercial builds. We have already fitted more than 4,200 apartments with smart automation and are delighted to have partnered with Simon and Unruly on this breakthrough project."
Image courtesy of Unruly